THE THREE PRINCIPAL ASPECTS OF THE PATH
27 June 2012 (9.30/11.30 - 13.30/15.30)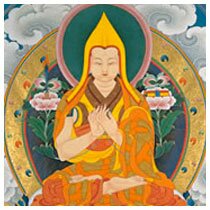 The Three Principal Aspects Of The Path
The Three Principal Aspects Of The Path is a brief but extraordinary text in which Lama Tzong Khapa (Tibetan philosopher and meditator of the XIV century) presents the principal points of the Buddhist Mahayana path: renouncement towards the suffering of conditioned existence, the altruistic mind of illumination and the correct vision of the ultimate nature of phenomena. This text represents a path of interior growth in which the individual begins to become aware of the self and it's real nature, in order to then open up to others by overcoming both ones own egoism and the wrong visions of reality which are the origins of every type of suffering and interior discomfort.
INITIATION OF AVALOKITESHVARA, THE BUDDHA OF COMPASSION
28 June 2012 (9.30/11.30)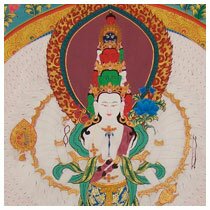 Initiation of Avalokiteshvara, The Buddha of Compassion
Avalokitesvara is the manifestation of the universal compassion of Buddha: he appears with this particular aspect of one thousand arms to symbolize his ability to benefit all beings. Receiving this initiation from a qualified master like His Holiness means to receive a transmission of positive energy that will permit one to create the causes to obtain the same qualities of the Divinity.

His Holiness will confer this initiation based on his great personal knowledge and after a specific preparation. It will be carried out, especially for this day, on the base of special propitiatory rites. This ceremony is open to everyone and will definitely permit one to receive great benefit and an authentic blessing of great compassion, loving kindness and non-violence.
PUBLIC TALK: Happiness Beyond Religion
28 June 2012 (13.30/15.30)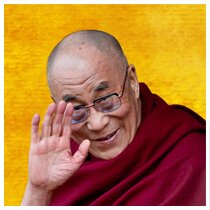 Happiness Beyond Religion
The words of His Holiness The Dalai Lama represent a positive approach to the existential problems of human society and suggest common worldwide ideal ethics that go beyond religion and shed light on the fundamental choices, particularly in moments of epic change like the one we are going through now.

This conference will be cultural encounter and practical life experience on living and dying, the economy and altruism, power and values, communication, education, marriage, patience and freedom until disarmament and compassion; love, a sense of spontaneity and joy. It will be a reflection on the responsibility that each individual should feel in order to help change the world. Because we can change the world.